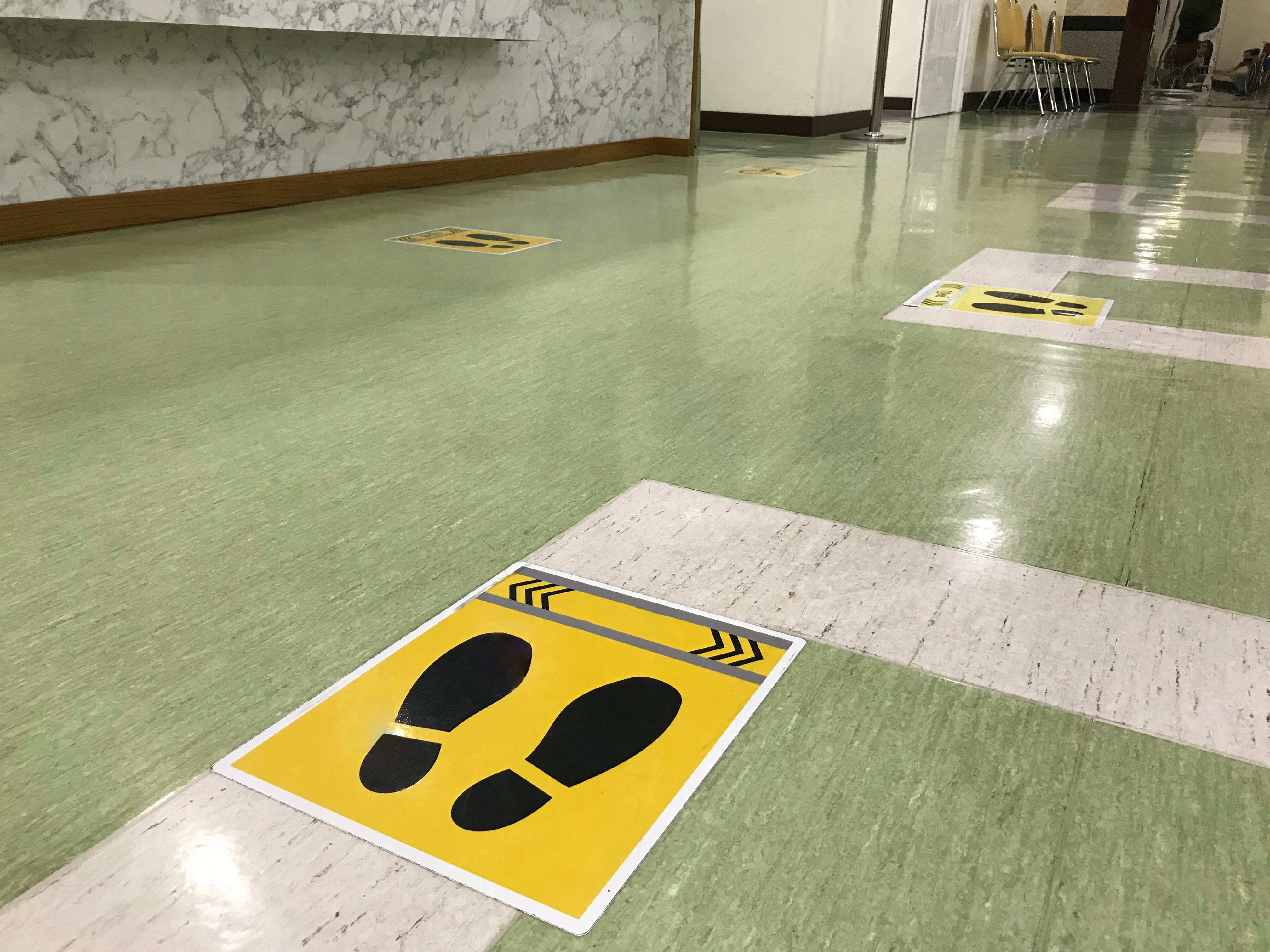 Ensuring that your business stands out from the competition may seem easier said than done. If you are looking for a way to add visual appeal to your office space, consider using your floor as an area that can take your brand to the next level, and increase the likelihood that your company will get into the minds of potential customers.
Why choose floor graphics? Floor graphics are a versatile and cost-effective way to attract attention for your products and services. They are visually attractive, eye-catching, and can be used in a wide range of settings. Well-designed floor graphics can convey the message that highlights your brand, while creating an inviting environment that compels customers to spend time inside your space.
Here are seven tips for designing floor graphics that will help get your business noticed:
Begin with a solid foundation
Your design is the foundation of your floor graphic. Build a solid foundation by taking time to carefully come up with your design. Think about the impact you want your floor graphic to make and what type of message you want to convey. Who are your target audience members? Think about these questions and weave these factors in as you develop your overall design of your floor graphic.
Incorporate your brand colors
Your floor graphic should be an extension of your brand, so make sure it reflects your brand consistently. You can use color to help people navigate the floor more easily by marking different areas with different colors. You can also use color as part of your marketing strategy. Consider using bright, vibrant colors that are closely associated with the products or services you are selling.
Use images effectively
The images on your floor graphic should be eye-catching while also reflecting the nature of your business. It's important to convey a sense of professionalism and project confidence in order to attract customers.
Additionally, be cautious when it comes to using shapes like squares and rectangles. They can do more harm than good when it comes to your graphic's appearance, and can be visually overwhelming to viewers. It's essential to make sure your images fit your space perfectly.
Be conscious of your space
Floor graphics take up floor space, and a certain amount of space is needed in order to get your message across. With this in mind, make sure you remain conscious of how much floor space your floor graphic will require. Ensure that your design works well within the available area. Consider the shape of your area and its location in your office building.
It's also important to consider the main areas that you want people to notice when choosing a spot for your graphic. These may include entrances and exits or focal points like meeting rooms or cafeterias.
Keep it simple
In order for your floor graphics to work effectively, they need to be simple and easy to understand. The images you use should not be too complicated. Otherwise, people will have a hard time understanding them and are more likely to ignore them altogether. Make sure that your images make sense and convey your brand's message clearly.
Keep floor graphics simple so that more people will pay attention to them. Also, remember to ensure that your graphics are relevant to your brand. Don't try to incorporate too many different elements on a single floor graphic. In the end, less is more.
Incorporate motion into your floor graphics
Graphics that include motion have more of an impact. However, they might be more challenging to design. Floor graphics that incorporate movement can attract attention because  they help your graphic stand out from everything else in the room, and they convey a modern look and feel for your business.
You can incorporate motion into your floor graphics by using small details. You might also try coming up with floor graphic designs that mimic patterns or flowing materials, like waterfalls, grass, or waves.
Test your floor graphics before installation
Before you install your floor graphics permanently, be sure to test them out first. You can do this by creating a design that can be easily put in or taken out whenever needed. The best way to do this is by using floor stickers, because they are easy to remove and reapply as needed.
When testing floor graphics, take time to observe how people react when they see them. If the response seems to be positive, you can have your graphic installed on your floor permanently.
Floor graphics are an innovative alternative to standard wall signs. Floor graphics come in all shapes and sizes.The team at Grafics Unlimited will talk to you about your goals and help you determine the right size, material, and placement for your company's next project. Give us a call to find out more!