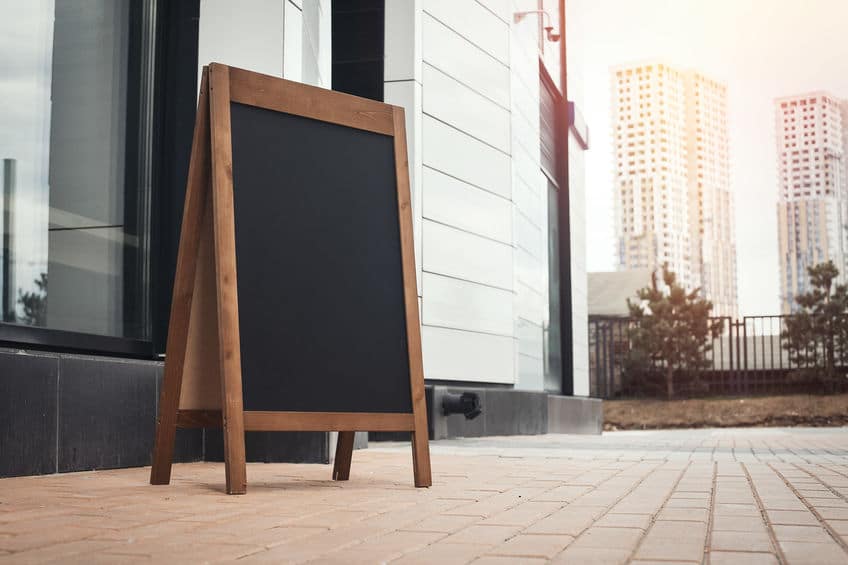 If you're a business who's looking for ways to get your message outside your front door, you may want to consider using outdoor sandwich board signs. Sandwich board signs, also known as A-frame sidewalk signs, are a traditional form of advertising used to capture the attention of passers-by and get them to notice a business. They are still popular and widely used even today because of the fun way they entice customers. 
Outdoor sandwich board signs allow you to customize your message. You can alter them according to your business needs when changes are called for. They are also useful if you have specials you want to promote. If you haven't started using outdoor sandwich board signs just yet, here are some of the reasons why you should!
Outdoor sandwich boards are a great tool for local advertising
Sandwich boards are perfect for businesses with stores and shops by the roadside. They're excellent local advertising tools because they can easily grab the attention of passers-by especially in areas where there is heavy foot traffic. 
These are perfect for businesses such as restaurants and cafes as they can use the sandwich boards to highlight their daily specials. They can also be used by stores selling any kind of merchandise to let people know of ongoing promotions or discounts. Or they can simply be used to thank or appreciate customers who patronize their business.
They can be taken anywhere
Good marketing refers to your ability to make the most of every opportunity to promote your business. If you want to find ways to increase your brand exposure, you don't have to stay where your business is physically located. One of the things that can help are sandwich boards.
Outdoor sandwich boards can be taken anywhere. They allow you to do mobile advertising. You can have one of your employees carry the sandwich board in areas where they can get the maximum target audience to see the message. 
They are cost-effective
As a business, you're likely always looking for ways to cut costs and trim expenses. While marketing is something you shouldn't skimp on, it doesn't mean that you should be unwise with your spending. Thanks to outdoor sandwich boards, you can give your business additional exposure without spending a lot.
Sandwich boards are relatively inexpensive and are very useful when advertising locally. They are a great investment for any business. 
They are useful tools in promoting special events
Are you gearing up for an upcoming sale? Or hosting a nice, in-store event? These are some of the common situations when sandwich boards come in handy. 
Using an outdoor sandwich sign will help ensure that your market knows about your current specials and promotions, especially if your business has a storefront. It keeps passers-by and potential customers informed of special offers available in your shop and steers them to your business. Make sure your sandwich board is effective by making the message concise and clear, and at the same time eye-catching. The goal is to get more people to come into your store to find out more.
They are reusable
Another great thing about sandwich boards is the fact that they can be used over and over again. They won't require you to spend on new materials each time they need to be used. All you need to do is simply change the information on the board according to the business needs. They are very versatile and durable. They can stand tough weather conditions so you won't have to worry about getting them replaced each time.
Sandwich boards are excellent marketing tools for businesses looking for effective ways to advertise locally. They are great at advertising specials and messages you want to get across to your potential customers. 
For quality outdoor sandwich board signs for all your business needs, make sure to reach out to the one you can trust. Contact Grafics Unlimited for more information.